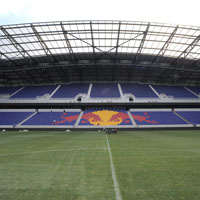 Robert E. Waldron, Project Executive
Hunter Roberts Construction Group
---
From engineering and coordination through installation and closeout, Birdair was thorough and professional in every respect. Additionally, our frequent visits to Birdair's panel fabrication plant in Tijuana, Mexico revealed a simple and organized facility where different materials were cut, seamed and packaged for transportation in an efficient and quality driven manner. Furthermore, your field team represented Birdair at the highest level. The attention to quality and schedule, coupled with superior trade coordination and above all, safety, was second to none.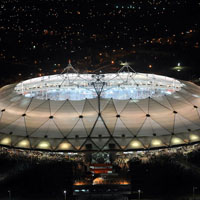 Hugo A. Larotonda
Estudio Hal
---
In my position as Project Manager of construction of La Plata's stadium, was our good fortune that Birdair, Inc has been contracted by the Government of Buenos Aires to lead and guide the construction of the structure and fabric of the roof. As you well know by now, this project has been complex at multiple levels, ranging from aggressive programming to the complex geometry of the structures that are now the iconic image of our stadium. Birdair has consistently demonstrated a willingness to work with our team at all stages of the design and construction so that these structures have been a reality.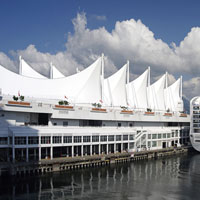 Andy O'Neill, Director Facilities
Canada Place Corporation
---
From your help in our early stages of evaluation, then through preconstruction and finally through the design, fabrication and installation of the new roof and liner, the work done by Birdair has been of the highest caliber. The ability of Birdair to replicate the unique design of the Canada Place roofing system and conduct the entire replacement with a focus on minimizing the risks in the project has been admirable. Although we had a short lead time and aggressive construction schedule, through the efforts of Birdair we have been able to hit our key target dates. The finished product looks better than ever. We appreciate your attention to detail, your inventiveness with erection methodologies and your ability to deal with unexpected issues without the need for any unexpected change orders. We are proud to have been associated with Birdair through this project and look forward to our ongoing inspection and service relationship into the future.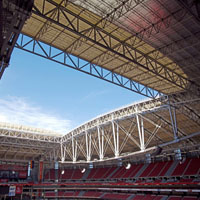 Robert S. Aylesworth, Jr., Executive Vice President
Hunt Construction Group, Inc.
---
Since we hired Birdair as the Fabric Roof "design builder", your firm has consistently met and, in many cases, exceeded our expectations.  From the development of the initial design and budget parameters, thru the evolution and refinement of the design and including the field execution of the work – Birdair were on time and on budget – without exception. You promised us that you were the best – you are!! Please add Hunt to the very top of your list of satisfied customers and references.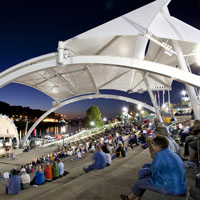 Edward E. Weber, A.I.A., LEED AP
Sillings Assocaties, Architects
---
In my position as Senior Associate and head of the architectural design team at Silling Associates, it was our good fortune that Birdair Inc. was contracted by the City of Charleston to engineer and construct the canopy, stage and pavilion tensile fabric structures for the Haddad Riverfront Park and The Schoenbaum Stage in Charleston, WV. Your guidance, creativity and strict adherence to the budget and schedule constraints were instrumental in the successful outcome of the project. We are very proud of our beautiful addition to the Charleston riverfront.  Our experience with Birdair was a positive one from all aspects, and it therefore without hesitation that I recommend them to any public or private organization seeking the finest in tensile fabric structures.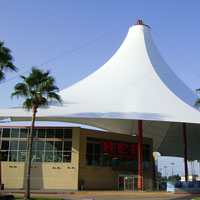 George Hernandez, Superintendent
Design & Construction HEB Grocery Company
---
We have found Birdair's response to be fast and knowledgeable. I was impressed with the detail to attention and the expertise of their installation contractors which made the projects go very smoothly. Birdair's coordination and preparation on every phase of the job brought the entire project in on time as scheduled. With Birdair's expansive knowledge, history, and expertise in tensile structure architecture, I highly recommend them for any and all future projects and will use them again if the need arises. I found them to be professional, positive and most of all, honest and straight forward.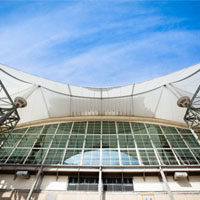 Casey Brown, President
Zimkor
---
We were priviledged to work for Birdair to produce the tower assembilies which serve to anchor the DIA Terminal Tent Roof temporarily while the South Terminal Redevelopment project proceeds. The job was extremely complex in terms of the welding, fit-up, and of course quality at DIA is the greatest of challenges.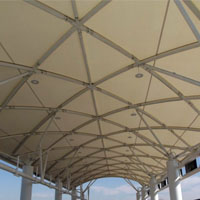 Keith Muskrat, Vice President
Byrne Construction Services
---
We have enjoyed working with Birdair, Inc. on the DFW Airport Parking Control System project. This project has been challenging in both the environment and timeframe required to complete the work. The Owner required multiple phasing requirements working around Airport traffic. We also accommodated an accelerated schedule with the majority of erection occurring at night. Birdair, Inc. was up to the task and helped us accomplish the Airport's goal completion date. We appreciate their efforts and would gladly work with them again.