Birdair Enhances Fan and Player Experience at Parmer Pond Grandstands with Eye-Catching PTFE Mesh Façade Panels
Grandstands at new practice field for Major League Soccer's Austin FC feature series of unique geometric-shaped panels 
Birdair, Inc., the world's leading specialty contractor for custom tensile membrane structures for over 60 years, has brought style and shade to the training complex of one of Major League Soccer's newest teams. A total of 96 individual PTFE mesh façade panels are featured at the Parmer Pond Grandstands, a 1,000-seat outdoor venue that is part of the new turf practice field for Austin FC. 
Birdair designed and built the geometric-shaped façade panels on the vertical back end and top side of the grandstands, which consist of eight large façade areas with 10 separate PTFE mesh membrane panels in each area, as well as two smaller tensile façade areas in the center of the grandstands with eight total PTFE mesh fabric panels. The panels will provide much-needed shade to fans of Austin FC's academy teams, which use the site as their home stadium. 
For its efforts on the project, Birdair received the award for Outstanding Achievement in Facades at the 75th Annual International Achievement Awards (IAA), part of the Industrial Fabrics Association International (IFAI) Expo.  
"Our PTFE mesh façade panels do a nice job of offsetting the grandstand's black and orange lettering with white fabric," said David Capezzuto, vice president, Pre-Construction and Operations, Birdair. "The panels were small, so they needed to fit perfectly to avoid wrinkling. 
"We designed adjustments in the corners to produce a really nice corner detail, resulting in a smooth installation process. The panels ended up looking great, and the customer was extremely happy with the result. Due to the construction team's speed and efficiency, we were also able to beat our installation schedule." 
Opened in April 2021, St. David's Performance Center serves as the official training facility of Austin FC. Located just seven miles from the Austin FC stadium, the $45 million, privately financed complex is now the training home of both Austin FC's first team and the Austin FC academy teams. The 23-acre, world-class facility features four pitches – three full-sized natural grass pitches and one half-sized natural grass pitch – as well as one artificial turf surface. Two of the grass pitches are dedicated exclusively to Austin FC's first team and configured as a "super-pitch". The 30,000-square-foot site also hosts the expansion club's players, technical staff and soccer operations leadership. 
Birdair's scope of work on the 1,550-square-foot project included design, engineering, fabrication and installation of the PTFE mesh fabric, cables and hardware. STG Design specified Birdair because of the unmatched flexibility and durability of its PTFE mesh panels, as well as for the panels' natural visual appeal. Austin Commercial, one of the top 50 general contractors in the country, managed the entire project for the owner. 
PTFE-coated fiberglass membrane can come in a solid or a mesh product, with the mesh most often used in vertical building facades and shading applications. The fabric's mesh construction allows for more lighting to enter the space and more air to circulate through the fabric.  
Because of its non-combustibility, PTFE mesh is an excellent choice for shade structures on high-rise rooftop decks and other building structures requiring a Class A roof material. Similar to solid PTFE-coated fiberglass membrane, PTFE mesh products have a long life expectancy, excellent durability and require minimal maintenance. 
A full-service design-build contractor for tensile architecture, Birdair features a comprehensive range of pre-construction services including design assistance, budgeting, construction methodologies and project schedule development. Birdair's in-house capabilities include design development, engineering, fabrication, construction (installation) and service and warranty services. 
For more information on Birdair's innovative roofing systems, canopies and skylights, visit Birdair.com and follow Birdair on Facebook and LinkedIn. 
About Birdair
Birdair, Inc., is the leading specialty design build contractor of custom tensile structures around the world. In addition to pre-construction services such as design assistance, budgeting, construction methodologies and project scheduling, Birdair provides design-build solutions in all aspects of project design, fabrication, installation and maintenance. The company offers a selection of architectural fabric membranes, including PTFE fiberglass, TensoSky® ETFE film, PVC and Tensotherm™, an insulated tensioned membrane system. Birdair, based in Buffalo, NY, is a member of the Taiyo Kogyo Group, with operations serving North and South America and other international locations. For more information about Birdair, call 1-800-622-2246 or visit Birdair.com.  
Contacts:
Pipitone Group
Chris Hayes
Content Specialist
chayes@pipitonegroup.com | 412.321.0879  
Birdair
Michele R. Taylor
Director of Marketing
micheleT@birdair.com | 716.633.9500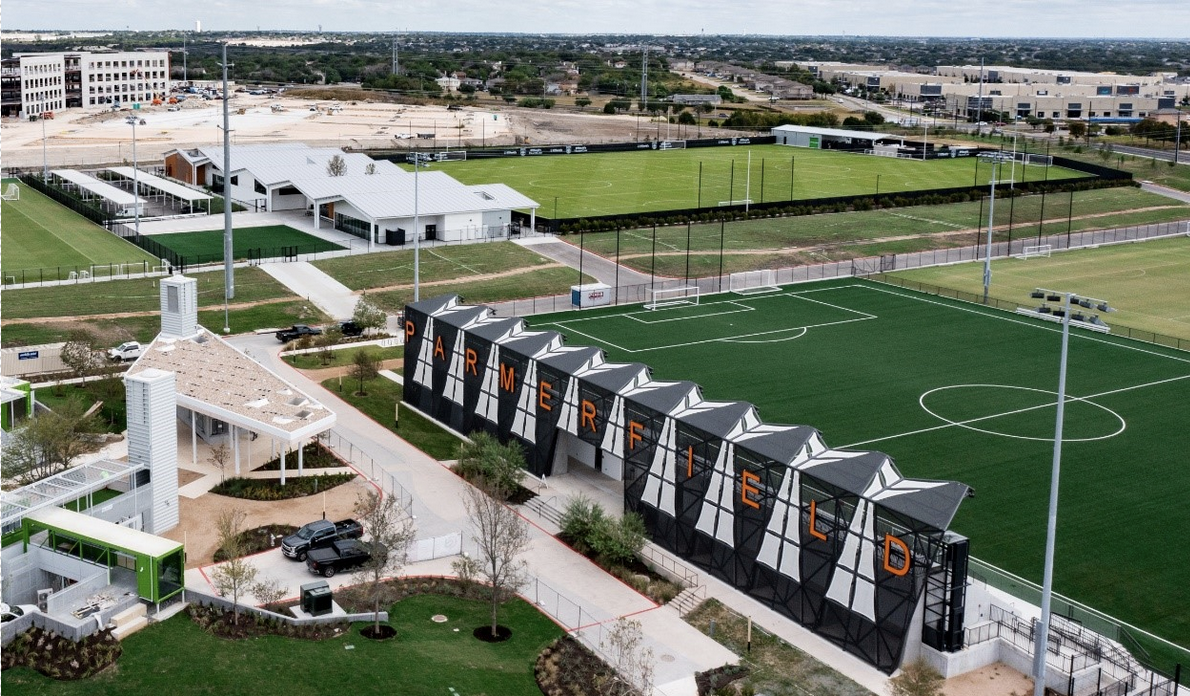 Birdair's scope for the Parmer Pond Grandstands project included design, engineering, fabrication and installation of the PTFE mesh fabric, cables and hardware.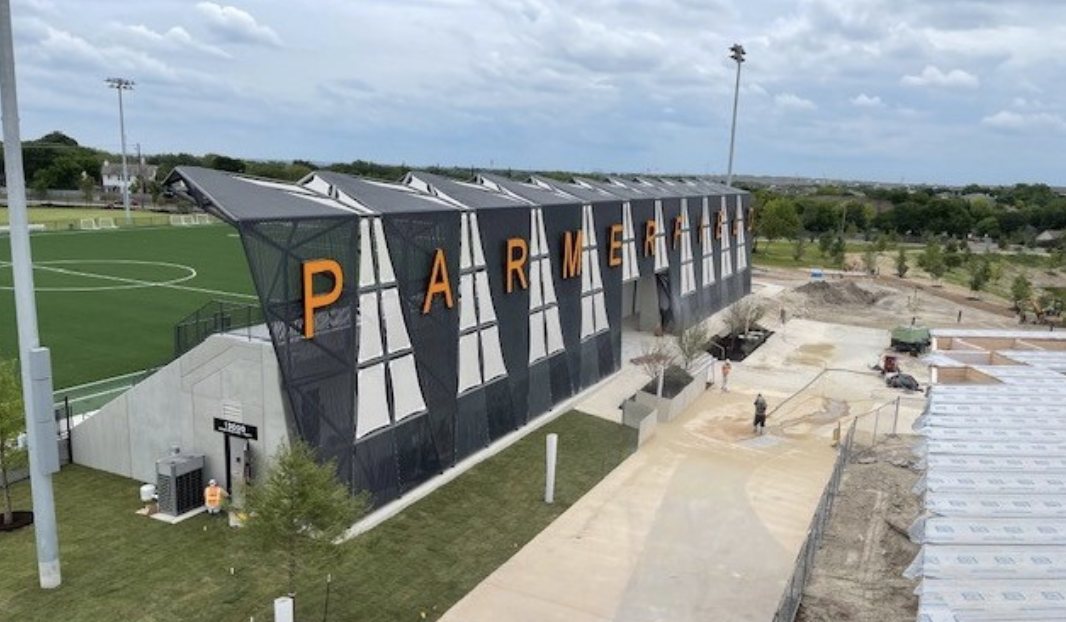 Birdair's PTFE mesh tensile fabric panels at the Parmer Pond Grandstands utilize cables in a cuff, creating catenary perimeter edges.