Birdair Lights Up Charlotte Skyline with ETFE System atop Legacy Union
Building is topped with single layer, pyramid shaped ETFE system
Birdair, Inc., the world's leading specialty contractor for custom tensile membrane structures for over 60 years, provided a beacon of light to the Charlotte skyline with a single layer TensoSky® ETFE (Ethylene Tetrafluoroethylene) system atop the city's Legacy Union building.
Birdair was contracted to handle the design build scope of ETFE, clamping, reinforcement cables and structural steel for the pyramid structure.
"Birdair is extremely proud of the finished product at the Legacy Union in Charlotte," said Thomas Connell, Project Executive, Birdair. "The job was challenging for several reasons, mainly due to little lay down space, the location of the building and a winter installation. Thanks to good fortune, a mild winter and excellent work by our subcontractors, which included fabrication by Taiyo, we were able to overcome these challenges and provide the client with a piece of architecture that adds to the beautiful city skyline."
For the project's steel fabrication and erection scope, Birdair subcontracted Steelfab, one of the largest steel fabricators in the country and headquartered just a few miles from the job site in Charlotte. Other contributors to the 13,200-square-foot commercial project included architect firm LS3P, engineering by WSP, and general contractors Gilbane and Shelco.
Despite the challenges with lay down space, Birdair found room on the top of the city's south parking garage to pre-assemble and hoist steel. Given that the pyramid sits on top of a high rise, the team utilized Gilbane and Shelco's two tower cranes for steel erection. Birdair also developed a three-tier scaffolding system, with Scaffolding Solutions, for access at the building's penthouse level.
Birdair was asked to accelerate the finish sooner than originally anticipated, but despite the tight timeline, the team completed the project eight weeks ahead of the initial schedule and four weeks ahead of the requested accelerated schedule.
TensoSky® ETFE film is durable and very lightweight compared to glass structures, making it the material of choice for traditional skylight applications, long span structures and building facades. ETFE film has a density of just 1.012 oz. per cubic inch and a low coefficient of friction of its surface, preventing dust or dirt from sticking to it and making it easy to maintain.
Highly transparent (from 90%-95%), ETFE film does not discolor, degrade or structurally weaken over time, even under exposure to environmental pollution, UV light, harsh chemicals or extreme temperature variations.
ETFE is reinforced with either wire cables, lightweight steel or aluminum to maintain its shape and stability. In double- or triple-layered applications, TensoSky® ETFE incorporates a pneumatic system to maintain air between two or three layers of film attached in aluminum extrusions and supported by a lightweight structure, creating inflated cushions. The cushions are filled with low-pressure air, providing thermal insulation and structural stability against wind and snow loads.
ETFE systems provide ample natural daylight, minimizing energy costs by lowering the demand for indoor lighting. Colors can be introduced in a variety of ways, whether during the film extrusion process – providing a consistent tint in various tones from red to violet – or adding lighting with unlimited color options.
ETFE film also can be recycled. Waste from the manufacturing process or even old ETFE elements can be remolded into new ETFE products such as tubing components, wires or castings.
Charlotte's fourth-tallest building, Legacy Union is also the city's new premier office address, located just steps from the heart of uptown. The building is easily accessible via car or light rail and offers unrivaled convenience and accessibility for Charlotte office workers. Its exceptional location makes it ideal for drawing in residents and visitors from across the region, resulting in a perfect space for retail and dining venues.
A full-service design-build contractor for tensile architecture, Birdair features a comprehensive range of pre-construction services including design assistance, budgeting, construction methodologies and project schedule development. Birdair's in-house capabilities include design development, engineering, fabrication, construction (installation) and service and warranty services.
For more information on Birdair's innovative roofing systems, canopies and skylights, visit Birdair.com and follow Birdair on Facebook and LinkedIn.
Download PDF Version: https://www.birdair.com/wp-content/uploads/2021/09/BDA-Legacy-Union-NR_FINAL.pdf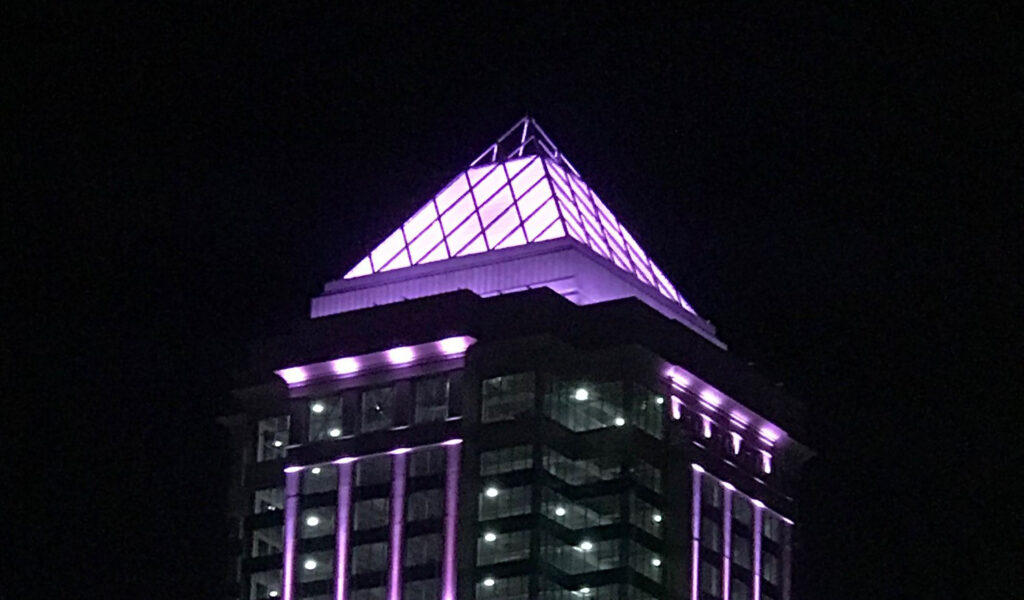 Location: Charlotte, NC