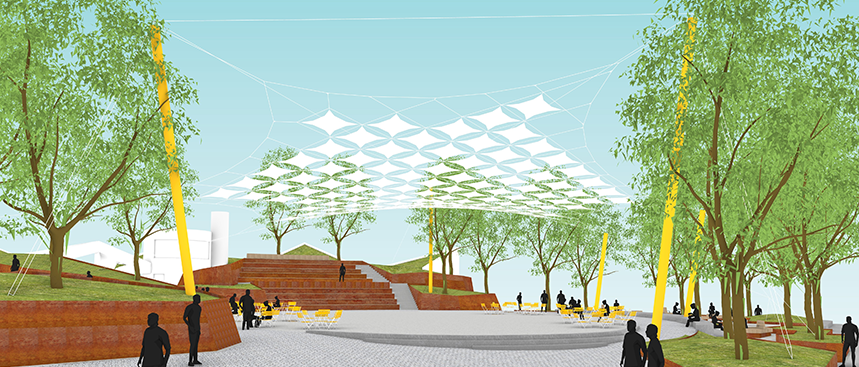 Birdair's Versatile Cable Net Tensile Structure to Enhance Visitor Experience at Domino Square Park
New seasonal structure at Brooklyn park features demountable PVC mesh panels
Birdair, Inc., the world's leading specialty contractor for custom tensile membrane structures for over 65 years, will help strengthen the sense of community at Domino Square Park in Brooklyn, NY, through the installation of a seasonal cable net tensile structure. The 2,560 sq.ft. stainless-steel structure, which will feature 122 identical panels of removable PVC mesh fabric membrane staggered in selected positions, will be installed at the center of the park's plaza space to provide shade to visitors.
With the new tensile cable net structure in place, the plaza space will be used in the summer to show movies and as a stage for performances. In the wintertime, the demountable PVC mesh fabric panels will be taken down and stored so the plaza space can be turned into an ice-skating rink. Installation of the structure is expected to be completed in spring 2024.
"Birdair is honored to participate in the historic redevelopment at Domino Square Park," said Tom Connell, Project Executive, Birdair. "The park is already a great space that offers scenic views of New York, and we hope this new seasonal tensile structure will provide visitors and community members with both protection and comfort for years to come."
Joining Birdair on the project team are Studio Cadena, an internationally recognized New York-based design and architecture practice that engages communities through new and captivating spaces; designed and engineered by FTL Design and Engineering Studio, an award-winning firm that seeks to build responsive structures that contain spaces which inspire; and Two Trees Management Company, a Brooklyn-based, family owned real estate development firm that has owned, managed and developed a portfolio worth over $4 billion in real estate.
The PVC-coated (polyvinyl chloride) mesh specified for the project is an exceptionally durable fabric membrane produced with polyester and other types of reinforcements. PVC-coated mesh is weaved during fabrication, resulting in increased tensile strength. This flexible tensile material offers architects and building owners greater versatility during the design phase of project development, allowing for it to be demounted and reinstalled multiple times unlike other fabric membrane products in the market.
In addition, PVC-coated mesh can be used in a wide range of climates, making it a sound choice for a multitude of weather conditions (-30° C to +70° C). PVC-coated mesh also offers aesthetic features such as partial transparency, which allows natural daylighting, increased textural interest and wide color selection.
PVC-coated mesh has been designed for facade applications, lending itself to exciting graphic image printing possibilities for commercial projects and more. PVC mesh also passes ASTM E84 fire testing, a standard test method for assessing the surface burning characteristics of building products, and meets numerous energy code standards, including those set by the U.S. Environmental Protection Agency and the U.S. Department of Energy.
Part of the ongoing redevelopment of the Domino Sugar Refinery site, Domino Square Park spreads along the waterfront just north of the Williamsburg Bridge in Brooklyn. An elevated walkway at the park offers views of the surrounding area and across the river to Manhattan. The park also includes food vendors, courts for sand volleyball and bocce and much more.
Domino Square Park is just one element of the Domino Redevelopment project, which includes the renovation of the iconic Domino Sugar Refinery, which reopened in September for the first time in decades. The 141-year-old structure, now named The Refinery at Domino, is an all-electric building that features 600,000 sq.ft. of office space and a massive vertical garden. The redevelopment project also includes two nearby residential apartment buildings, an office building on Water Street and the original Domino Park.
A full-service design-build specialty contractor for tensile architecture, Birdair offers a comprehensive range of pre-construction services including design assistance, budgeting, construction methodologies and project schedule development. Birdair's in-house capabilities include design development, engineering, fabrication, construction (installation) and service and warranty services.
For more information on Birdair's innovative roofing systems, canopies and skylights, visit Birdair.com and follow Birdair on Facebook and LinkedIn.
About Birdair
Birdair, Inc., is the leading specialty design build contractor of custom tensile structures around the world. In addition to pre-construction services such as design assistance, budgeting, construction methodologies and project scheduling, Birdair provides design-build solutions in all aspects of project design, fabrication, installation and maintenance. The company offers a selection of architectural fabric membranes, including PTFE fiberglass, TensoSky® ETFE film, PVC and Tensotherm™, an insulated tensioned membrane system. Birdair, based in Buffalo, NY, is a member of the Taiyo Kogyo Group, with operations serving North and South America and other international locations. For more information about Birdair, call 1-800-622-2246 or visit Birdair.com.
Contacts:
Pipitone
Chris Hayes
Content Specialist
chayes@pipitone.com | 412.321.0879
Birdair
Michele R. Taylor
Director of Marketing
micheleT@birdair.com | 716.633.9500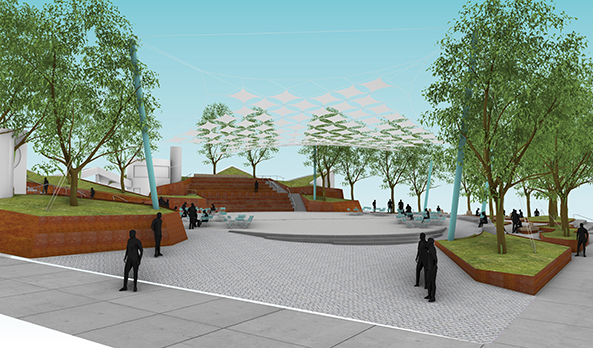 Birdair's seasonal cable net tensile structure at Domino Square Park will feature 122 identical panels of removable PVC mesh fabric membrane.