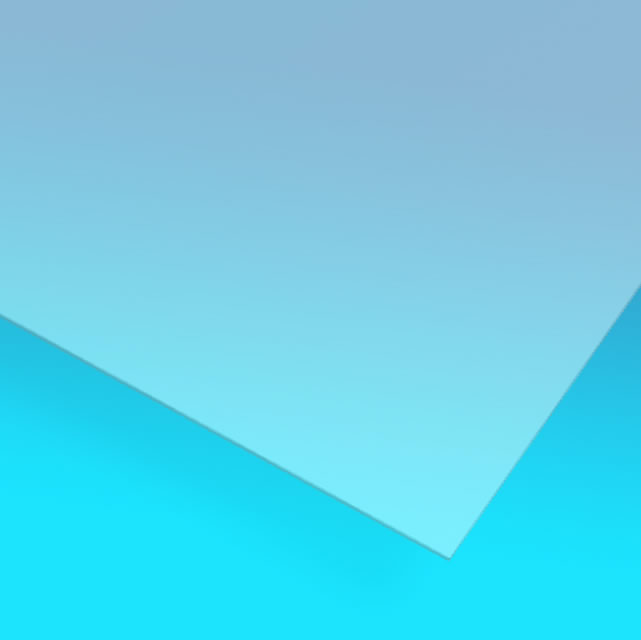 What is TensoSky® ETFE film?
It's the new generation material which goes beyond glass.
TensoSky® ETFE (Ethylene Tetrafluoroethylene) film is durable, highly transparent and very lightweight in comparison to glass structures. ETFE is being considered the material of choice for traditional skylight applications to long span structures and building facades. Few building materials can match ETFE for its impact or presence when you want a structure that stands out from the crowd.
History
ETFE (Ethylene Tetrafluoroethylene) has been originally developed by DuPont over 40 years ago as an inert coating material for the aerospace industry. ETFE film, then conventionally used in agricultural applications such as greenhouses or for the coating of solar cells has since demonstrated its worth in the architectural sector as well. The first application in the building industry took place in the early 1980s in Europe. With the Eden Project in Cornwall, UK, the tremendous potential of ETFE had been shown. With three major projects, the Eden Zoo project in 1998, the Allianz Arena for the 2006 Soccer World Cup and the "Water Cube" at the 2008 Beijing Olympics, ETFE film has gained recognition and is now being considered the premium material for transparent cladding applications whether in roofing or facade construction.
TensoSky® ETFE Film
The raw granulate is extruded into sheets called foil or film with a density of 1.012 oz. per cubic inch. ETFE is one of the most lightweight and transparent cladding materials. Due to low coefficient of friction of its surface, dust or dirt will not stick onto the film. As the film is UV transparent, it will not discolor or structurally weaken over time. ETFE can also be recycled.
Construction Technology
Single Layered Application
TensoSky® ETFE can be applied in a single layered form and are reinforced with either wire cables, light weight steel or aluminum to maintain shape and stability.
Double or Triple Layered Application
In a double or triple layered application, TensoSky® ETFE film incorporates a pneumatic system to maintain air between 2 or 3 layers of film attached in aluminum extrusions and supported by a lightweight structure creating inflated cushions. These cushions are filled with low-pressure air, providing thermal insulation and structural stability against wind or snow loads. If needed, small cables can be used for reinforcement. Under typical loading conditions, ETFE cushions can range from 5 to 15 feet wide and reach up to 200 feet in length.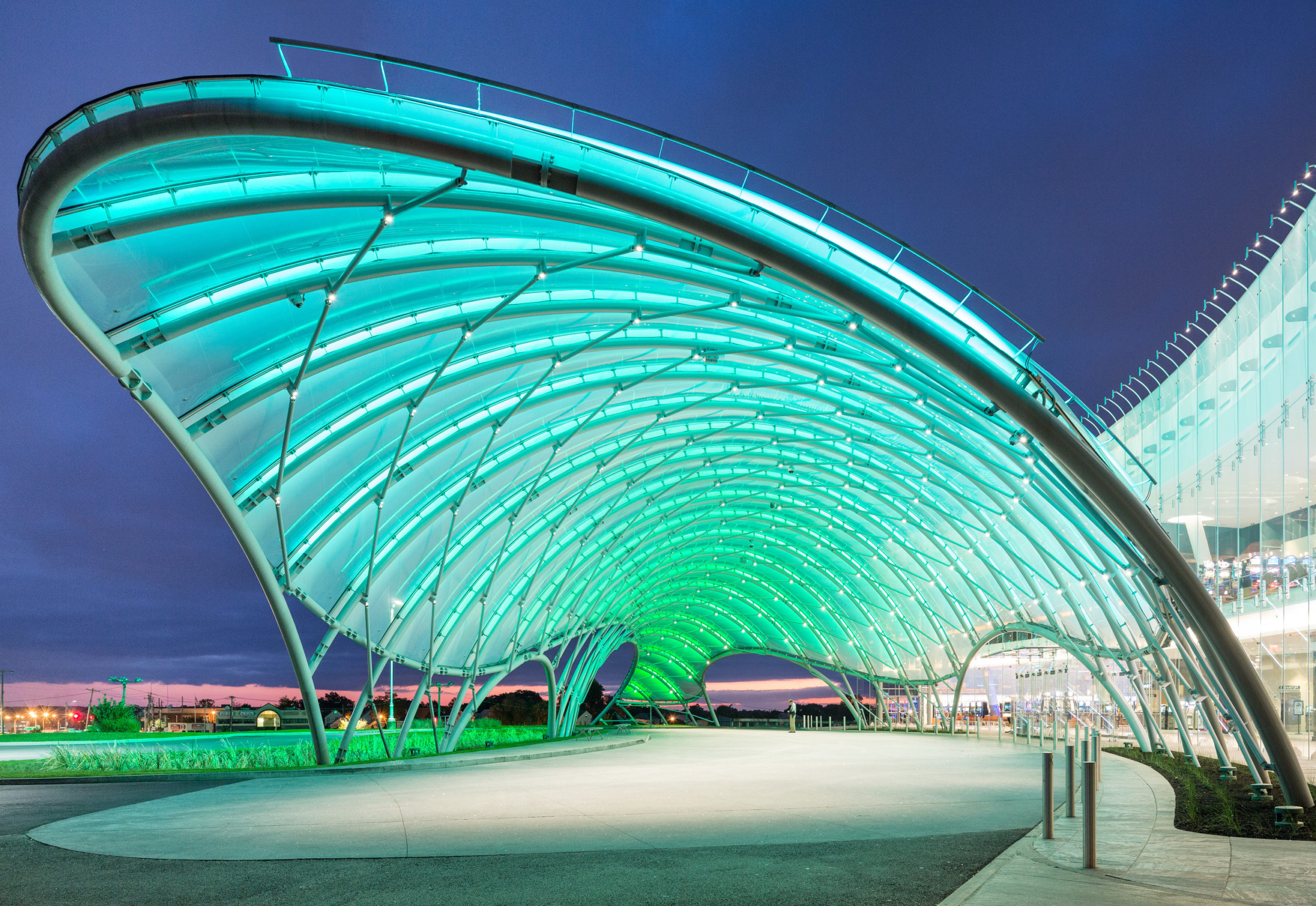 Benefits of TensoSky® ETFE
Exceptional Light Transmission – ETFE films can be highly transparent (from 90% to 95%) and allow for the passing of UVs which are responsible for the promotion of photosynthesis thus facilitating plant growth. 
Solar Control/Shading – ETFE film systems can incorporate a number of frit patterns on one or multiple layers to alter their solar performance. The foil is printed with various standard or custom patterns. Colors can be introduced in a variety of ways whether it's applied during the film extrusion process providing a consistent tint in various tones from red to violet or adding lighting with unlimited color options.   
Elasticity – While ETFE films are very elastic (up to 600% at breaking point), they are still structurally resistant. The tensile strength at the limit of elasticity/plasticity is 21-23 N/mm² but tensile strength to breaking point is 52/Nmm². For structural calculation a limit of 15 N/mm² is conservatively usually taken.
Long Lasting/Longevity – Under exposure to environmental pollution, UV light, harsh chemicals or extreme temperature variations, ETFE does not degrade
Acoustics – ETFE film has approximately 70% acoustic transmission
Sustainable/Energy Efficient – From extruding of the film to transportation to site, compared to other similar cladding material, little energy will be consumed thus reducing the overall carbon footprint. In addition to this, the nature of the product enhances the building physics through insulation and daylighting, therefore contributing to the global low energy aspect of the building.
Cost Effective – Due to the lightweight nature of ETFE, substructure support systems and concrete foundations can be designed more efficiently. ETFE systems also provide ample natural daylighting, thus minimizing energy costs by lowering the demand for indoor lighting.
Recyclable –  Easily recyclable, waste from the manufacturing process or even old ETFE elements can be remolded into new ETFE products such as tubing components, wires or castings.
Thermal Performance
Comparable to a glass system, the increased thermal performance is possible with a multi-layered system. For a double or triple layer pneumatic system, multiple layers of film are welded into panels that are inflated with low pressurized air to stabilize the film and providing the thermal property of the system.
In a single layered application, you can achieve about an R-Value of 1 and in a two- layer system, approximately an R-Value of 2.0. Whereas, a three- layer TensoSky® ETFE system has an R-Value of around 2.9 degrees F h / Btu or a U-Value around .35 BTU/(h degrees F ft 2).
Air Inflation System / Energy Consumption
A pneumatic TensoSky® ETFE cushion system is generally supplied by one or more inflation units. Each unit consists of two redundant blowers forming a backup system for guaranteed structural stability. The air when entering the machine will be dried to avoid condensation within the cushions. A series of pressure sensors will continuously monitor the internal pressure of the ETFE cushions maintaining them between 5 PSF and 6 PSF. In case of high wind or snow loads, if necessary and designed, sensors can automatically and continuously adapt the pressure to compensate external loading up to 30 PSF.
Depending on air temperature and humidity, one unit can supply a roof of up to 15,000 square feet. These units are UL certified and run on an 110V power with power consumption less than 1kW/h.
Photovoltaic and LED Integration
Flexible photovoltaic (PV) cells and/or LED lighting can be integrated with either a single layered or cushioned system to meet performance and/or aesthetic requirements.
Maintenance / Cleaning
Due to the non-adhesive surface properties of the ETFE, deposits of dirt, dust, and debris do not stick and are washed away by the rain resulting in a "self-cleaning" effect. However, as for all mechanical equipment and their components, it is necessary to perform a yearly inspection. The inspection includes all necessary checks on the air inflation units and filter replacements. The ETFE film and its attachments will also be inspected for possible damages to prevent any further issues.
Fire Properties
ETFE FIlms have been rates under different national and international standards as self-extinguishing with no burning drops. The film melts away at around 500 degrees F. They are classified under several world standards as ASTM E84 class A, ASTM E108 class A, UL 94VTM class 0, EN 13501-1 class B-s1-d0, NFPA 701.
Safety
Due to the high resistance and elasticity of the ETFE, it is an ideal building component where sudden extreme loads such as earthquakes or blast may occur. Unlike glass that will shatter and cause major concern under similar shock load situations, ETFE will either deflect under load or even in case of breakage, is unlikely to cause any major damages. ETFE is, however, not suitable as vertical railing and cannot prevent from intrusion.
Project: Development and Demostration of Flexible Multifunctional ETFE Module for Architectural Facade Lighting.
ETFE-MFM Brings Together a Multi-Disciplinary Team, With Outstanding Research, Technological, Maunfacturing and Business Expertise. The Team includes: ITMA (Spain), Acciona (Spain), CENER, G!E (Belgium), Solarion (Germany), and Taiyo Europe (Germany & Birdair's subsiderary).