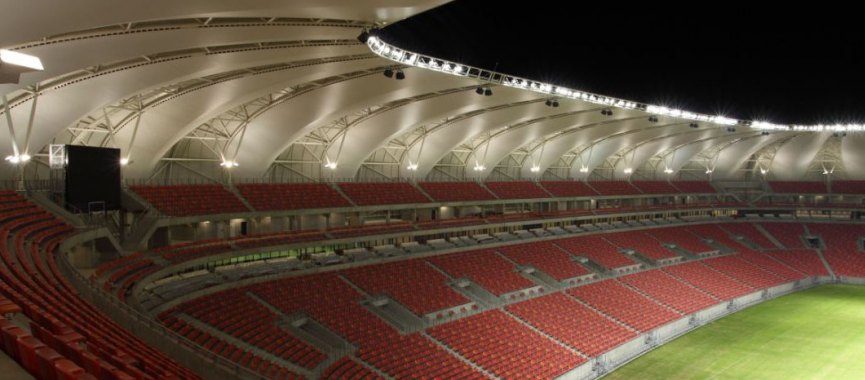 The durability of tensile membrane structures and their maintenance requirements is the result of the unique combination of design, materials, construction and environment. There are several different membranes in the market place today that demonstrate various performance qualities.
The longest proven lifespan of membrane is found in PTFE (polytetrafluoroethylene) fiberglass. PTFE coating is extremely durable and weather resistant while the fiberglass weave provides the strength and permanence for the material. It can be installed in climates ranging from the frigid artic to the scorching desert heat with a project life in some cases exceeding 30 years. Over 40 years ago, in 1972, Birdair completed the first tensile membrane structure not supported by air. This was at the Sports Science and Athletics Pavilion at the University of La Verne, La Verne CA. Notably, that structure, with its original PTFE roof, is still in operation today.
PVC, or polyvinyl chloride, architectural membrane is the most common fabric membrane for producing flexible structures and is best suited for short-term, temporary or deployable applications. PVC membrane is commonly coated with a protective acrylic or PVDF top coat with a design life of approximately 15-20 years. If PVC membrane is exposed to high levels of UV in such areas like Florida or in the Southwest U.S., the design life of PVC is approximately 10-15 years. As an added benefit, PVC can be produced in a multitude of colors to coordinate with individual building project requirements.
Having first debuted in Europe, ETFE (ethylene tetrafluoroethylene) film, a lightweight alternative to glass with diverse aesthetic and performance capabilities, has now been used for building envelopes around the world for nearly 30 years. ETFE does not degrade with exposure to UV light, atmospheric pollution, harsh chemicals, or within extreme temperature fluctuations, thus making it the often selected material of choice from traditional skylight applications to long span structures to building facades.

Another Functional Benefits of Tensioned Membrane Structures: