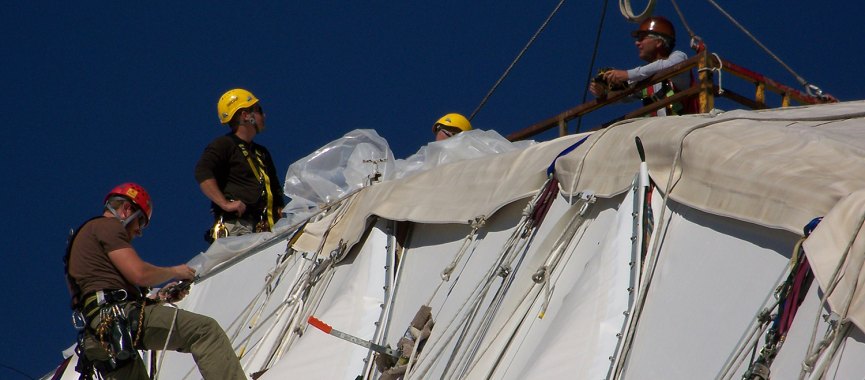 Birdair's Field Superintendents and Technicians possess a cumulative total of over 200 years of experience with all types and sizes of fabric skylights, on nearly every continent.
Birdair offers clients a wealth of post-project resources and assistance. We have the technical resources and professional skills in-house to provide any level of service an Owner might need - from the smallest repair or a simple cleaning, to complete design services of new structures or modifications to an existing structure.
Birdair's Field Superintendents and Technicians possess a cumulative total of over 200 years of experience with all types and sizes of fabric skylights, on nearly every continent. Because of the number and far reach of the projects designed and/or built by Birdair, at any given time there is a high likelihood that a Field Superintendent or Technician is within a few hours of your location should an emergency arise.
Birdair offers a complete range of services and support for any of the projects it has erected. An Owner can contract for all, one, or none of the services listed below. Our Customer Service Manager will be happy to provide a quotation on the package of services that best meets your needs.
Studies have shown that the cost of maintenance and upkeep on a conventional building, over its useful life, can far exceed the building's construction costs. Tensile membrane systems are somewhat unique in that they require relatively small maintenance when compared to an equivalent-sized conventional building. A good preventative maintenance program will ensure that this advantage is maintained throughout the life of the structure.

On projects that use the annual service regularly, the inspection and maintenance is normally completed within the agreed upon time constraints without any additional costs. In addition, the Inspector is able to refer to the findings from previous inspections. This history file can assist the Inspector in planning his visit, as well as highlighting specific areas for him to re-examine from previous repairs.

With this in mind, Birdair offers an annual Inspection and Maintenance Program, which is performed by trained and experienced personnel, all of whom have continuing involvement in the installation and maintenance of such structures. The program can work as follows:

The Owner would enter into a simple agreement with Birdair. This agreement can be for one, three, five or more years.
The agreement spells out the conditions for an inspection visit with associated maintenance. The on-site time allocated would depend on the size of the structure, usually 8 to 40 hours.
A full inspection is made of the fabric membrane and those portions of the associated support system that was part of the original Scope of Work when the structure was installed.

A detailed report is made of the inspection. If any maintenance is needed that can be performed in the time frame of the inspection, it will be done by the Inspector. Any other necessary or recommended repair work will be reported and coordinated with the Owner.
Every fabric skylight/roof should have an adequately stocked repair kit available and ready for immediate access. It should be periodically checked to ensure that all items are present and in good working order. As part of the standard Inspection and Maintenance Agreement, Birdair will check the repair kit contents and instruct the Owner's personnel on the fundamentals of fabric repair.
If required, Birdair has the man power and equipment to respond quickly to any request for emergency repairs or assistance. We will dispatch our nearest Installation Superintendent to your location to provide support to your staff.
When required, Birdair will be happy to perform membrane cleaning at your facility. We have the ability to provide the manpower, material, and equipment necessary to complete the job.
Birdair offers full in-house capability to perform Material Testing for those Owners who wish to periodically evaluate the condition of their skylight/roof membrane.

Based on test results, conclusions can be drawn regarding the estimated service life of the membrane. This information can be of value to an Owner when preparing his long-term capital improvement plan.
Birdair's in-house design team is capable of evaluating an Owner's proposals for mounting or suspending equipment, speakers, banners, lights, etc., from the tensile membrane roofing system or for modifications that might have an effect on the engineering assumptions used during the original design.
Another Functional Benefits of Tensioned Membrane Structures: